KIKE VARGAS BALLARIN
Born in Huesca in 1973. Since he was a child, his father began to take him to the mountains of the Pyrenees near his home. From there was born a passion unbridled by everything related to nature.

Being very young already took courses of mountain, climbing, canyoning, paragliding, skiing, BT ... activities in some of which ended up being instructor and guide. 25 years ago he made his first diving course, almost by chance, and from there he was born an irresistible attraction that led him to travel across countless seas of the world, in search of new seabeds and underwater experiences.

In the year 2006 he decides to make his love for the sea his way of life and becomes PADI Instructor no. 259867.

He has several PADI diving specializations and this organization granted him the title of Elite Instructor in 2014,2015 and 2016 due to the large number of courses he has taken throughout his career. He loves to guide the immersions and teaching, especially Open Water courses.

Under the water you will see it always turning to control the group, help with everything that's possible and at the same time looking for life through all the holes with its inseparable flashlight.

He is currently owner along with Pili of the diving center La Restinga. He is harbor pilot (professional). Is in charge of organizing and directing all diving outings as well as courses. In addition, given its experience, is the one that finds and accompanies the groups that we organize for the diving trips around the world.


For me to dive is a way of life and to be able to live from it is to see the greatest of my dreams become true.
PILAR GARCIA NAVARRO
Born in Tortosa in 1983. It is the lung of La Restinga Diving Center. Through her the center breathes. From a very young age she felt a great need to learn and especially to protect everything that nature refers to. She is a great animal lover and activist (almost radical) in protecting the environment.

Soon she began to do all type of activities and sports outdoors, like mountaineering, climbing, canyoning and mountain biking. In 2006 she made his first diving course and since then she have never left it, coming to work as a diving guide in Lanzarote and El Hierro. In addition his passion for travel has led her to dive in different seas of the world.

Currently she owns La Restinga Diving Center with her partner Kike and is the person in charge of all the logistics. She will answer all your emails, and will give you all kinds of information about the island, the trips that we do, the immersions, courses, accommodation, way of arriving, etc. In addition it is also in charge of the maintenance of the compressors, bottles and regulators of the center.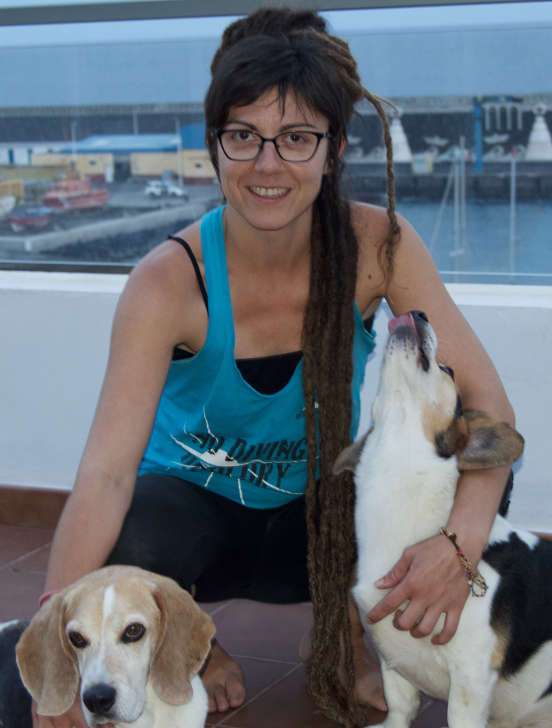 ALFREDITO CALLEN
Born in Huesca in 1995. He is the youngest in La Restinga Diving Center, and the one that gives us always that energy and positive attitude that is linked to his youth.

He began to dive with his father, along with the club Oscasub, when he was practically a boy. At age 14 the diver was lucky. His father told us as an anecdote, that much earlier he was already behind the divers while doing snorkel, and when they made the safety stop he subsided and plugged into their manometers !!

In 2013 he passed by the diving center almost by chance and stayed with us all the summer season, where he just graduated as Divemaster PADI. From then on, he spends with us all the four summer months, the ones when there is more workload, doing many Open Water courses, as an assistant to Kike and learning each hole of every immersion in El Hierro.

In addition he is still training for his career as a professional diver. In 2015 he obtained the harbor pilot certificate and in 2016 the PADI instructor no. 374567, along with several specializations. Meteorical his career with only 22 years!
For me, diving is the sensation of flying into the abyss, travel to another dimension and enjoy with yourself !!
JOAN COSTA
He began his career as a press photographer in 1988 in Ibiza, Mallorca and Barcelona. She moves to Madrid in 1996 and starts working for Cover agency.

He collaborates with magazines like Viajar, El País, Traveler de Condé Nast or The New York Times. He is author of books like Belice, with prologue of Manuel Leguineche, or Nuevo México, prefaced by Manuel Alvar. In Madrid, he presented the exhibitions Ucrania, Los ojos del alma y Los secretos del alma rusa.

In Eivissa, his most recent samples are Naltros, Cases d'Eivissa i El bosc del Mediterrani. From 2009 he specializes in scientific and oceanographic photography. Collaborating with media such as National Geographic.

In 2010 he embarked on the Malaspina Circumnavigation Expedition, which studies climate change in the ocean. His zooplankton photographs of the Pacific Ocean earned him a second prize in the prestigious World Press Photo 2012.
Joan is the one in charge at La Restinga Diving Center to show the bottoms of the sea in El Hierro to the world always through its vision and its camera.